Spelling
Our spelling programme in Key Stage 2 builds firmly on the high-quality phonics programme in EYFS and Key Stage 1. As part of this, in Year 2, there is a clear shift in the focus of the National Curriculum from teaching phonics to teaching spelling and that continues through Key Stage 2 to Year 6. The children are supported to move onto a wider knowledge that they need in spelling – morphology, different strategies for spelling, the autographic nature of words and patterns within words, where words come from and a wider range of Common Exception Words.
The National Curriculum is organised in strands that are then broken down into termly overviews for each year group (APPENDIX 1). These are then mapped across weeks as half termly plans with five spelling lessons across two weeks.
These lessons are whole class lessons and are 20 minutes long. They follow a teaching sequence for spelling, whereby each new concept is taught, practised and then applied and assessed. There is also a 'Revise' session before the teaching session.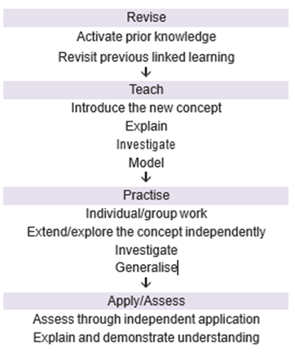 Each lesson is focused on one part of this teaching sequence with clear objectives and teaching and learning strategies.
Pupils' learning is assessed throughout the teaching sequence but the 'Apply' part of the sequence more specifically includes assessment activities to identify if pupils have learnt the key concept taught. These activities include weekly testing (the words from the lessons that are taken home to practise), dictation and explaining. However, the most important aspect is their independent application into writing. The spelling knowledge and strategies that they learn within the lessons must be applied accurately in their writing. All common exception words and spelling objectives taught in previous year groups are listed on a non-negotiable sheet for each year group to support the children in ensuring that all known words and patterns are spelt accurately.
APPENDIX 1