Principal's Welcome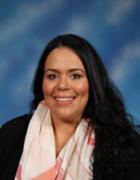 Welcome to St. Paul's Catholic Primary School website. I hope our school website will give our parents, carers and prospective parents an insight into the life of our busy, friendly school and that it will answer some of the questions you may have about the school. Children are a wonderful gift from God and I can assure you that your children will be at the heart of all the decisions that I make.
St. Paul's is a one form Catholic Primary School situated on Pool Farm Estate. The school is part of the Lumen Christi Catholic Multi Academy Company (MAC) along with seven other local Catholic schools: St. Brigid's, St. Columba's, St. James', St. Joseph's, St Thomas More, St John Fisher and St. Thomas Aquinas. As a MAC we are all committed to developing Catholic education in our schools.
Our school has a strong Catholic ethos and our community is shaped by our faith and values. It is within this context, that the growth and development of our children takes place. We have very strong links with the parish and work closely with Fr. Barry, our Parish Priest. We welcome children from all walks of life, with baptised Catholic children having first preference in our admission criteria. Every child is welcomed and valued as a unique member of God's family and all staff are dedicated to providing a stimulating, nurturing and exciting environment.
Our children enjoy coming to school, are motivated by their successes and become confident, reliable citizens. As a small school, children here thrive and make good progress in a warm and caring environment. We have a strong pastoral team who work hard to address the needs of all families and provide support where needed.
We are passionate about providing the children with a good education and our expectations are high for all children. The teaching staff are extremely committed to the children and providing them with the best possible education. All the staff in the school, as well as the whole school community, work together to ensure that this happens. As a small school we get to know our children very well and the children are encouraged to make positive learning relationships with all. We work hard to ensure all children achieve high standards in their work and behaviour and strive to create a stimulating environment where work is both challenging and fun. We offer a broad and balanced curriculum enriched with visitors, educational trips, events and activities to inspire in each child a joy for learning. As a school we also offer a wide range of sporting and musical opportunities.
We are blessed to have the Friends of St Paul's, our Parents' Association who not only raise funds for the school, but also provide fantastic social events for our community throughout the school year. We are always looking to extend this amazing team, please let us know if you are interested in becoming one of the friends of St Paul's.
The safeguarding of all our children is paramount and we work hard to ensure that we know our children and their families well. We have robust safeguarding procedures in place and a strong safeguarding team in school.
Our school works as a team in which parents, children, staff, governors and parish work together for the benefit of all. Please feel free to contact the school directly with any queries you may have. I'd be delighted to show you around the school so that you can see the children and staff in action. We are very proud of our school and we hope that from looking at our website and reading our Newsletters you are able to see all of the wonderful things that happen at St Paul's school.
God bless,
Mrs Haylia Williams
Principal