School Development Plan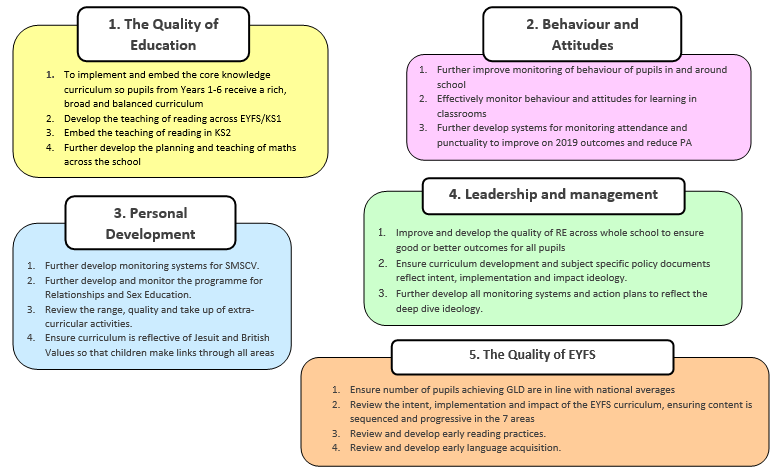 1. The Quality of Education
SDP Focus

2019-2020
Actions

Autumn Impact

Spring Priorities

Spring Impact

Summer Priorities

1.1 To implement and embed the core knowledge curriculum so pupils from Years 1-6 receive a rich, broad and balanced curriculum

i) Staff/subject leaders to attend all cross-MAC monthly meetings to ensure consistency and quality in delivering the curriculum
ii) Subject leaders to ensure quality of curriculum delivery through monitoring teaching and resources half termly
iii) Conduct Deep Dives each term with a particular focus on SEND/PP and attitudes and behaviours for learning:
21st Oct – History
3rd Dec - Science
iv) Ensure effective assessment strategies are in place to support knowledge retention
v) To ensure knowledge organisers are prepared for Art, Music, Geography and History
vi) The school website is updated with information for parents on the curriculum

Maths Deep Dive – Gary Setchell

1.2 Develop the teaching of reading across EYFS/KS1

English leader to undertake project with The Open University re: Reading for Pleasure
Work with English consultant to embed good practise for teaching of phonics across EYFS/KS1
Introduce and implement new programme for the teaching of reading
Increase English leader's management time in order to develop their monitoring programme (CPD) and to ensure a thorough overview of subject

1.3 Embed the teaching of reading in KS2

English leader to undertake project with The Open University re: Reading for Pleasure
Review teaching of reading in KS2 to ensure progressive, robust and regular reading sessions (Guided Reading, Reading Aloud, Accelerated Reader)
Increase English leader's management time in order to develop their monitoring programme (CPD) and to ensure a thorough overview of subject
Quality of Education-Impact against actions 2019-2020
1.1
1.2
1.3
2. Behaviour and Attitudes
SDP Focus

2019-2020
Actions

Autumn Impact

Spring Priorities

Spring Impact

Summer Priorities

2.1 Further improve monitoring of behaviour of pupils in and around school

Ensure new behaviour policy is being embedded consistently throughout the school
Ensure incidents of poor behaviour are logged on My Concern
Seek staff/pupil/parent views on new behaviour policy
Monitor incidences of poor behaviour and ensure appropriate aftercare is implemented to reduce further recurrences

2.2 Effectively monitor behaviour and attitudes for learning in classrooms

Ensure new behaviour policy is being embedded consistently throughout the school
Conduct a behaviour audit with external body
Ensure incidents of poor behaviour are logged on My Concern

2.3 Further develop systems for monitoring attendance and punctuality to improve on 2019 outcomes and reduce PA

i) Develop robust systems within school office/SLT to monitor and tackle poor attendance
ii) Embed use of Early Help and Birmingham FAST TRACK Legal Process to reduce PA
iii) Ensure all legal action undertaken by the school is fully documented and communicated to all parents
Behaviour and Attitudes-Impact against actions 2019-2020
2.1
2.2
3. Personal Development
SDP Focus

2019-2020
Actions

Autumn Impact

Spring Priorities

Spring Impact

Summer Priorities

3.1 Further develop monitoring systems for SMSCV.

i)Review and alter monitoring proforma to include all areas outlined in new framework for SMSCV
ii)Reflect on the quality of the new knowledge curriculum and the impact it is having on opportunities to develop SMSCV

3.2 Further develop and monitor the programme for Relationships and Sex Education.

i)Explore Diocesan ten:ten scheme to teach SRE
ii)Support RE lead in developing an SRE programme/policy

3.3 Review the range, quality and take up of extra-curricular activities.

i)Monitor and review extra-curricular activities offered within school and explore opportunities for all
ii)SENCO to create a map to identify what opportunities SEND/PP children are given to access extra-curricular activities

3.4 Ensure curriculum is reflective of Jesuit and British Values so that children make links through all areas of the curriculum

i)Continue to review curriculum offer to identify links between Jesuit and British Values and ensure teaching makes links with these
ii)Learning environments are reflective of these links

Can staff/ch discuss links to Jesuit and British values?
Personal Development-Impact against actions 2019-2020
3.1
3.2
3.3
3.4
3.5
4. Leadership and management
SDP Focus

2019-2020
Actions

Autumn Impact

Spring Priorities

Spring Impact

Summer Priorities

4.1 Improve and develop the quality of RE across whole school to ensure good or better outcomes for all pupils

1. RE lead to devise action plan for RE/CW

2. Principal to develop CL of school in liaison with RE lead

ii) Ensure the correct number of pieces of work are in books to support 10% RE curriculum time.
ii) Ensure all SEND children are accessing ARE objective
iii) Ensure that teachers continue to have high expectations of written work so that it is matched more equally to their religious rich knowledge

4.2 Ensure curriculum development and subject specific policy documents reflect intent, implementation and impact ideology

i) Review all subject based curriculum policies so that they reflect Core Knowledge approach to teaching and learning
ii) Review marking policy to support teacher work/life balance
iii)Review assessment practices so that they support the demonstration knowledge acquired over time

4.3 Further develop all monitoring systems to reflect the deep dive ideology.

i) Conduct Deep Dives each term with a particular focus on SEND/PP and attitudes and behaviours for learning:
21st Oct – History
3rd Dec - Science
ii) Continue to work with Mac schools to develop 'deep dive' monitoring systems that ensure SLT and subject leads have full knowledge of subject curriculums, so that intent matches implementation and expected outcomes

School Standards Committee to be informed about the Core Knowledge curriculum. Co-ordinators to meet with link governors w/c 14th Oct
Leadership and Management -Impact against actions 2019-2020
4.1
4.2
4.3
5. The Quality of EYFS
SDP Focus

2019-2020
Actions

Autumn Impact

Spring Priorities

Spring Impact

Summer Priorities

5.1 Ensure number of pupils achieving GLD are in line with national averages

i) Provide frequent and varied opportunities for children to practice and consolidate prior learning
ii) Regular
iii) Use Ofsted EIF to review the robustness of the EYFS curriculum
iv)Track knowledge content and how it supports future learning across KS1

EYFS staff to work with LCMAC and Principals in researching and implementing the core knowledge curriculum into school in line with the school's EYFS philosophy

5.2 Review and develop early reading practices

i)Ensure Literacy is at the heart of the of the EYFS curriculum
ii) English leader to undertake project with The Open University re: Reading for Pleasure
iii)Work with English consultant to develop and embed good practice for teaching of phonics across EYFS/KS1
iv) Introduce and implement new programme for the teaching of reading

5.3 Review and develop early language attainment.

I) Research effective methods of vocabulary acquisition for young learners and put research into practice
ii)Ensure vocabulary acquisition is at the forefront of all learning experiences
iii) Plan meticulously to increase word hoards for all pupils particularly SEND and disadvantaged
Quality of EYFS -Impact against actions 2019-2020
5.1
5.2
5.3